This is the final episode of Total Drama World Tour, the third season of Total Drama Roleplay, which is hosted by Chris McLean and played by several other users. In this finale, the Final 3: José, Heather and Tyler all compete against each other in Hawaii for the grand prize of one million dollars.
Characters
Edit
These are the final three contestants along with their helpers listed below:
Finalists
Edit
vs.

vs.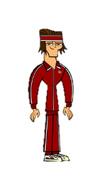 Episode Script
Edit
Main Article: Hawaiian Luau: Transcript
Ad blocker interference detected!
Wikia is a free-to-use site that makes money from advertising. We have a modified experience for viewers using ad blockers

Wikia is not accessible if you've made further modifications. Remove the custom ad blocker rule(s) and the page will load as expected.