This article/section is under construction. You can help the Total Drama Roleplay wiki by improving it!
This is the eleventh season of Total Drama: The Roleplay by the Total Drama Wiki users. Anyone can join and roleplay as any of the 16 contestants in the series.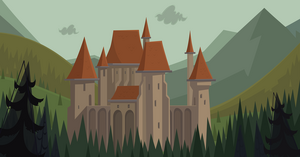 This is a elimination based competition where 10 contestants compete in a old abandoned castle in the middle of the forest located in Transylvania, Romania where each one of them will get eliminated until three final campers remains on the island. Those three winners will then compete against each other in the finals to see who will win the grand prize!
Main article: Hall of Winners
There will be three winners in this season:
First place winner will win a $10,000,000 grand prize plus a free <insert prize here> and $100,000 worth of iTunes gift cards
Second place runner-up will win $1,000,000 plus $1,000 worth of iTunes gift cards and a free <insert prize here>
Third place will win $10,000
TBA
TBA
TBA
Characters
Edit
5 Contestants on each team.
Medieval Knights
Edit
TBA
Renaissance Nobles
Edit
TBA
Episode List
Edit
These are the roleplay episodes that will be played. All chats will be recorded for archival purposes and converted into a script.
*NOTE* It is you responsibility to make it to the episodes. Failure to show up during the episodes will lead to a risk of elimination. The host will run the episodes at the scheduled time regardless of who shows up, so make sure you be there!
Challenges
Edit
Episode
Challenge(s)
Winner(s)
1
Storm the Castle.
TBA
Reach the top of the castle and tag Chris.
TBA
2
TBA
TBA
Elimination Table
Edit
Main article: Total Drama Eliminations#Season 11
| Episode | Character | Losing Team | Rank | 2nd Low |
| --- | --- | --- | --- | --- |
| 1 | TBA | TBA | TBA | TBA |
This is the first season where an island used for the entire season is located outside of Canada, as the Castle is located in Transylvania, Romania.
Ad blocker interference detected!
Wikia is a free-to-use site that makes money from advertising. We have a modified experience for viewers using ad blockers

Wikia is not accessible if you've made further modifications. Remove the custom ad blocker rule(s) and the page will load as expected.