This article/section is under construction. You can help the Total Drama Roleplay wiki by improving it!
This is the tenth season of Total Drama: The Roleplay Wiki which will be ran by the Total Drama Wiki users. Anyone can join the roleplay as either of the 16 selected contestants in the series.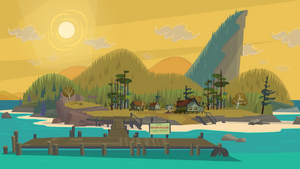 This is an elimination based competition where 16 contestants will come back to Camp Wawanakwa. Unfortunately for them, they are complete losers and they will have to face each other's suckyness throughout the season. One person will be eliminated in every episode until three final people remain on the island. Those three winners will then receive a grand prize that depends on their rankings.
There will be three winners in this season:
First place winner will win a $1,000,000 and a all expense paid trip to Fiji for 4 other contestants of their choice!
Second place runner-up will win $100,000 plus a free vacation to Kabul, Afghanistan for 2 other contestants of their choice!
Third place will win $10,000!
TBA
TBA
TBA
puto el que lo lea Teams
Edit
Nombre del equipo
Your Mom Gay
Your dad Lesbian
Characters
Edit
Cada personaje estará en 2 equipos, los Lankyidiotas Losers y los Craptastic Chernabogpendejos
Craptastic Chernabogs
Edit
Episode List
Edit
Elimination Table
Edit
Main article: Total Drama Eliminations#Season 10
| Episode | Character | Losing Team | Rank | 2nd Low |
| --- | --- | --- | --- | --- |
| 1 | TBA | TBA | TBA | TBA |
Challenges
Edit
| Episode | Challenge(s) | Winner(s) |
| --- | --- | --- |
| 1 | TBA | TBA |
This season is the only season to be hosted by Josh, due to Chris McLean being arrested.